SYDNEY FIBERGLASS POOL REMOVAL SERVICES
Fiberglass pools provide luxury to the family and enhancement to your property until it causes you trouble with the frequent maintenance, repair, and danger to your kiddos and pets.
The swimming pool is like an expensive hassle, takes up the valuable space of the yard, potentially decreases your home value to sell, or maybe harmful to your and your family.
To reduce all these risks homeowners need to say goodbye to their unused fiberglass swimming pool, Jam Pool Removals can help you with this.
Our certified and experienced pool removal contractors in Sydney are skilled in every kind of pool removal and demolition including inground pool removal, above ground pool removal, and concrete pool removal. We would be glad to help you better benefit from and enjoy your house with your pool filling service.
Once you join with Jam Pool Removal Services, you won't have to worry about your pool removal project. We'll deal with the inconvenience and easily handle your old swimming pool.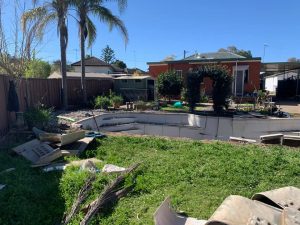 RESIDENTIAL & COMMERCIAL FIBERGLASS POOL REMOVAL SYDNEY
Our staff has collective experience in the removal and demotion sector, and hence are proficient in delivering high standard pool removal and maintenance service. For more than a decade with a team of professionals, we have been providing the best service for residential and commercial pool owners around the Sydney area with full determination which enables us to become the most preferred pool removal agency in the Sydney area.
Our Fiberglass Pool removal process is designed to provide safe and quality service to our customers who trust us for their tasks. No matter what shape and size your pool have. Our professional pool removals are done the job with perfection without making any property damage.
Fiberglass Pool Removals service process:

Get proper permits from the local municipality of the area.
Remove any fencing or landscape to get access to the work area.
Haul away the water from your fiberglass pool. All water is thrown out / disposed of offsite in strict accordance with local regulations.
Break and remove the butt of the pool and dispose of it properly.
Dump the debris in a safe place.
Fill in space with the appropriate soil and compress it.
Repair the pool removal area as there was no pool before.
We value your health; hence we strive hard to give it a sparkling appearance with the brilliantly turfed yard and nothing but a memory of your old swimming pool.
———————————————————————————————————————————————————————————–
Still, Thinking about your Fiberglass pool removal? Just Pick up the phone and dial at
0401-007-895
to get
FREE of cost Fiberglass Pool Inspection and Quotation
. Our Pool Removal Experts contact you to discuss your pool removal needs soon.
———————————————————————————————————————————————————————————–
DO YOU HAVE ANY QUESTIONS ABOUT FIBERGLASS POOL REMOVAL & DEMOLITION?
We know you are going to take a big decision about your pool removal. You have various things in your mind about your pool removal project. Here are some common frequently asked questions you may also ask before signing your inground swimming pool removal from your property.
How much does it cost to remove the Fiberglass Pool in the Sydney NSW area?
In Sydney, the cost of inground pool removal depends on a few factors like; pool's size and shape, the material used to built-in the pool, depth of the pool, full or partial, local codes filling needs. While Jam pool removals can remove your fiberglass pool around $3000 to $7000.
How long does it take to remove a fiberglass swimming pool?
You can expect 1 to 3 days to remove your fiberglass pool by the experts of the jam pool removals. Again it depends upon the size, location of the access.
Can I remove the Fiberglass pool (DIY)?
Homeowners can apply DIY for pool removal but they need some experience in this field and appropriate tools to complete the task. While applying DIY carries a high risk of property damage. That's why let pool removal contractors help you and provide your expected result. A team of experts will apply safe and efficient methods to remove your pool.
Do I need permits and local fees for the fiberglass pool removal?
You may need inspection or permits before removing or filling your pool which fees range from $100 t0 $300. The fee, inspection, and permits depending on the types of removal and city regulations for each step of the removal project. Contact your city or ask professionals to know the latest rules of your area.
Does removing a Fiberglass pool decrease my home value?
Removing a fiberglass swimming pool from your yard probably increases or decreases your home value, it's all depends on the condition of your pool. For example, a pool can increase your home value if it doesn't take much part of your yard and is fully maintained. On the other hand, the pool can also decrease your home value if it is in poor condition and take up a wide space of your yard.
FREE FIBERGLASS POOL REMOVAL INSPECTIONS IN SYDNEY AREA
With more than 15+ Years of experience and trusted by 2700+ pool owners, We hold an in-depth knowledge of the above and in-ground fiberglass swimming pool removals and demolitions, so we are ready to come to visit the site for inspection and give you our estimate for pool removal costs.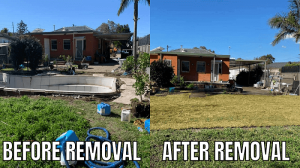 Our thorough in-depth pool removal service ensures efficiencies, saves cost, and downtime. The highly motivated team at Jam Pool Removals is happy to take the pain and stress out of your pool removal.
Our staff is always ready to help you with any questions you've regarding pool removal. Just give us a call or leave a message we will get back to you soon.
Want to utilize the pool's unused space? Ring us at 0401-007-895 so that we help you to get rid of your unused fiberglass pool from your property. Contact us now to get a free estimate or consultation.